Nigeria's largest repository of
government and private organisation bids & tenders
Access Public and Private Sector RFPs, RFQs, Tenders and other Bid Solicitations. 
One-Stop Source for Tenders, Business Opportunities and Auction
Find RFx from various Agencies, Ministries, NGO's and Multi National Organisations
View latest tenders and business opportunities
TENDERS & OPPORTUNITIES COLLATED, COMPILED & CATEGORISED
550,000+
Tenders Published
Our Customer TESTIMONIALS
"ETENDERS.com.ng has been a game-changer for my business. The platform's user-friendly interface and efficient tendering process have significantly increased our chances of securing valuable contracts. With their reliable support and wide range of opportunities, Etenders.com.ng is our go-to platform for business growth. Highly recommended!"

"Using etenders.com.ng has been transformative to our procurement process. The platform's extensive database and streamlined search functionality saved us valuable time and effort in finding the right suppliers. Thanks to Etenders.com.ng, we've successfully connected with reliable vendors and improved our supply chain efficiency. A fantastic resource for any business!"

Engr Ben Uche

Project Engineer

Read more

With their unwavering support and extensive opportunities, etenders.com.ng has become an indispensable catalyst for our remarkable business growth. I wholeheartedly endorse it for any entrepreneur seeking a transformative platform.

Lincoln Adewale

Contractor

"Here at Britelson Nig Ltd, we have used ETENDERS for approximately 4 years. We have won a number of contracts from opportunities we were alerted to by their service, including work for NGO's and State Governments.

Arch. Mike Odavwaro

Contractor
View latest tenders and business opportunities
Find RFx from various Agencies, Ministries, NGO's and Multi National Organisations
| TITLE | DATE ADDED | DEADLINE | CATEGORY | categories_hfilter |
| --- | --- | --- | --- | --- |
Services to help you kick start your bidding effort
Trusted by thousands of innovative companies in Nigeria
Do you know that we can assist contractors and consultants to prepare Technical and Financial BIDS to meet SPECIFIC project requirements and WIN the BIDS?
Do not worry if what you have is inadequate, we can help you to perfect same or guide you professionally to acquire same if we're appointed to offer our services.
Want to Find Out more
CONTACT US NOW
We assist companies to obtain Contractors Compliance Documentation to ensure they are eligible to bid.
Pencom Certificate
NSITF Certificate
ITF Certificate
Group Life Insurance
Tax Clearance Certificate
BPP Registration
Want us to assist?
CALL US NOW
BID LIKE A PRO
GET THIS BOOK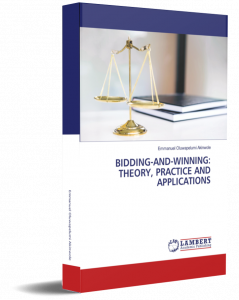 Find Opportunities
Search or Browse our database of Business opportunities and Tenders from more than 500 public sector organisations and businesses in Nigeria, published daily.
Subscribe
 Register to receive business intelligence that can provide you with public sector contracts and private sector leads, focused on optimizing your business growth.
Get Notified 
Receive email alerts as soon as tenders are published on our platform, get timely and genuine business opportunity information, ahead of the competition.