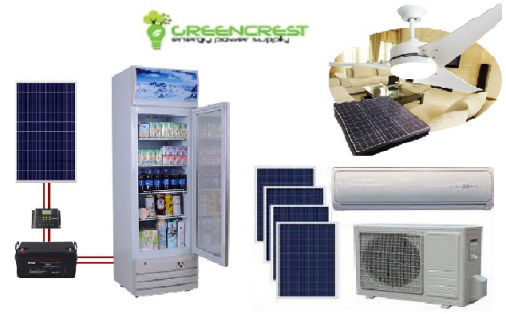 About Us
Greencrest Energy Power Supply Company, Ltd. also known GREENCREST SOLAR is a marketing, distributor, supplier, installer and maintainer of Solar Power System and accessories. our mission is to provide a continuous, reliable affordable electric power supply to residential customers, schools, hospitals hotels, government facilities and commercial industrial businesses. Greencrest Solar Power company can provide solution for all of your energy needs.
Our main focus is on research and development, manufacturing,, distribution, installation, sales and services of complete Solar Power System and solar electronic equipment, making "high efficiency and energy savings" as our development direction.
Our Product:
* Solar Power System products, On-Grid and Off-Grid, including solar panels, power controller, inverter, batteries, etc.
*Solar Power Appliances: Solar Air-Conditioners, solar fans, solar refrigerators & Freezers,
* Solar Street Lights, garden lights, Solar security Lights, Traffic Lights, Flood Lights and Aviation Security Lights.
* Solar Water Pumps: for livestock watering, irrigation, pond, open tank, irrigation, pond, remote homes/cabin and drinking water
* Solar Accessories which includes Cell phone Chargers, laptop chargers, flash lights, lanterns, lamps, radio, solar briefcase and variety of indoor and outdoor lights and decorative items,
* We also offer consulting services to business and industry to provide a Turn-Key Energy Solutions to bring your business into the 21st century.
Our products are manufactured of American Standards for use in Nigeria and/or African Subcontinent,
Send Message to listing owner
Please
log in
to be able to send messages to the listing owner.