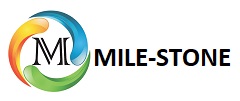 About Us
Specialized in the delivery of exquisite engineering
services, Mile-Stone Works Limited is a leading company
among an exclusive range of service providers within the
engineering industry. Our spot in the prominent class of
engineering firm has been secured with years of
dedication to building an enterprise that is supported by
local and international networks. At Mile-Stone, we set
the pace as one of the top engineering, procurement, and
installation company in the country with a solid network
of partnerships that fit international standards. Our
services are delivered with the confidence best confidence
in the industry, across all levels. While maintaining a
special quality of service delivery, we ensure that our
services are customer-friendly with competitive prices
and turn-times that distinguish us as the ideal company
for all engineering services.
Within our years of business operation, we have cultivated
undeniable expertise, which has had a significant impact
on the versatility of our services, without diminishing the
quality. We provide Civil Engineering and Mechanical
Engineering with HVAC & Duct Installation Services, Steel
Structural Works, Pipe Fittings, and Industrial Thermal
Insulation. Our services also include Electrical Engineering,
Marine Engineering, including Stevedoring, and the design
and installation of Fire Protection Systems. As an
extension, to ensure innovative solutions for our broad
range of clients, we offer General procurement services,
with product specifications as it relates to the project and
client demands.
Our services are tailored to cater to every client, in a way
that speaks only of excellence and professionalism. Our
client portfolio includes corporate bodies, governmental
organizations, private enterprises, and individuals. We
handle projects of different sizes, experience requirements, and other details, but the common factor
among our clients is their taste for excellence, which we
are sure to deliver with efficiency.
At Mile-Stone, our staff is the engine that makes the
company work seamlessly and effectively. We have
specialization teams with experts who are extensively educated, highly-qualified, and certified to take on
projects for every client. With our staff, we offer clients
the added security of knowing that the best hands for the
job are on deck for their projects. Our staff is supported by
the network of vendors and business contacts who
provide the equipment, resources, and advanced
information/technology that is required to deliver any
project to standard.
Our drive at Mile-Stone is to ensure that no part of the
process is substandard because perfection is the
benchmark. We are able to stick to this benchmark by
embracing the core values of innovation, safety,
professionalism, sustainability, and accountability. At
Mile-Stone, we strive for the best outcomes in every
project, ensuring customer satisfaction with excellence.
Send Message to listing owner
Please
log in
to be able to send messages to the listing owner.