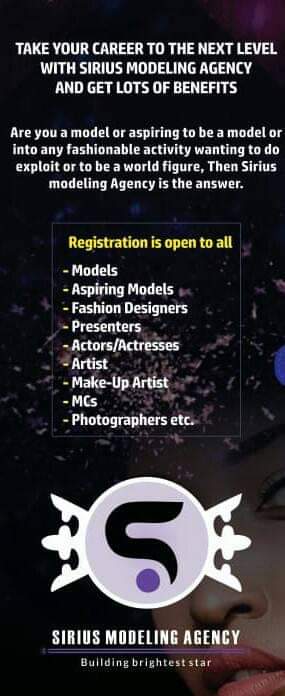 About Us
SIRIUS MODELING AGENCY is a platform created and duly registered with the government on the basis to facilitate conversations with key players from the Nigerian and international fashion industry as a useful tool for exchanging ideas, networking and developing the fashion industry. 
In SIRIUS MODELING AGENCY , we believe that by creating an agenda of the most pressing issues faced by the fashion industry in Nigeria as a nation and beyond, and then inviting thought leaders to share their perspective, we can gradually begin to develop a semblance of structure for creating sustainable change in the industry. 
Our goal is to effectively capture, engage and connect with a diverse demographic of industry players, contributors, stake holders, fashion cognoscenti, policy makers and potential investors; using SIRIUS MODELING AGENCY as a useful tool of engagement.
OUR EXPECTATIONS AS A MODELING AGENCY
Our expectations are to directly engage with the business community and relevant government stakeholders to foster collaboration. Fashion is a business and a viable investment opportunity, the fashion industry ought to be taken into serious consideration in our States. So our expectation is really for fashion designers, musical artist, presenters, Actor/Actresses, photograhers, MC's, Make-up artist, and other members of the fashion value chain to be given a seat at the table for states/Nigeria's economic future.
We are very proud of What the Young talents are doing Nation wide and beyond  we appeal officially to companies, individuals and organisations to partner with positively in other facilitate our determination and passion to revive the entertainment industry across the Nation/States respectively, Which represents a cross section of sectors and industries that will play a role in the future growth of fashion industry in our State and Nigeria at large
Note?
diversification is critical to our survival as a nation. Oil cannot sustain us anymore. We must look to other industries such as agriculture, of course fashion. It is not just about designers and fashion shows. Fashion can be used as a tool to solve Unemployment problems across Nations
The most important element for fashion to be a major player in the State economy is solidarity, all relevant stakeholders have to work together. No one entity can single-handedly fix the fashion industry. 
We are always open for partnership and sponsorship from companies, individuals and organisations across the globe 🌎🌎
Email us today for partnership
siriusmodelingagency@gmail.com
or call +2347089790544
Send Message to listing owner
Please
log in
to be able to send messages to the listing owner.